Prepare
Make your Bed
Keep your most important gear organized and out of the way for when life throws you a curveball, whether that's an adventurous 'detour' or an unexpected trip to Costco.
The Original
'BLOCK AND SLOT' Pattern
The term MOLLE has become a bit of a buzzword in recent years and many imitation products have latched onto it, simply cutting square or rectangles into their products. The BuiltRight 'Block and Slot' pattern offers slotted features, designed for use with common 1/4" mounting hardware in addition to correct MIL-SPEC MOLLE/PALS features. Finally, the BuiltRight MOLLE Nuts (sold separately) offer an additional mounting location with a 1/4-20 threaded hole for easy installation.
Quality
Built Right, Right Here
Each Bedside Rack Panel is manufactured using high-grade 1/8" thick steel plate and is CNC cut and formed for perfect fit every time. All panels are finished with a durable texture black powdercoat for a factory look and feel.
INNOVATION
The Design Process
BuiltRight is an engineering company before all else and we're obsessed with great mechanical design. Each product has a story of ideas, innovation and iteration until it's just right.
Your Bedside Rack System started as a 3D scan of multiple truck beds, in order to understand the manufacturing tolerances that Ford, GM, etc hold themselves to. We then use that data along with CAD files provided by our OEM partners to design parts that will fit your truck perfectly.
Finally, we test those parts using finite element analysis on the computer before sending them out to our network of product testers around the world. Real-world testing happens in Baja, on ranches and jobsites across the country and on the icy, salty roads from the Midwest to the Northeast.
Buy with Confidence
Consider this a no-BS, satisfaction guaranteed, no questions asked promise. Here's the thing - you won't need it. On average, we process one warranty claim for every 9,827 products we ship.
American Made
BuiltRight Bedside Rack Systems are proudly made right here in the US using the highest quality domestic materials we can get our hands on. We're proud to support American manufacturing and the folks that make it possible.
Setup Assistance
Looking for advice on how to attach a specific piece of gear to your racks? Needs some help with an installation? We're all 'truck guys' here, so technical support from somebody who uses our products is just a call or email away.
Industry-best Customer Support
Lifetime warranty + Lifetime customer support backed by a real person. (yes, that's Matt)
---
Customer Reviews
Write a Review
Ask a Question
08/10/2023
Anonymous

United States
I recommend this product
Excellent product / fairly easy instal
So far I'm incredibly happy with the set up, the quality is excellent and it's so simple everything just "makes sense" My only issue with the instal was not with BuiltRight but with my spray in bed liner, this made getting the tie down strap screws out a serious pain in the a** because the liner material obviously coated the screw holes and this was a chore to dig out. I may well have spent just as much time dealing with these 8 screws as I did installing the rest of the entire package. Aside from that I have already recommended the product to two friends.
04/23/2023
Ray G.

United States
I recommend this product
Perfect except for 4 bolts
First of all I'd like to says that the product is well-built and it was designed with thoughtfulness and manufactured with quality in mind. The only problem I encountered during installatiin was that the bolts (for the support brackets) did not fit the channel nuts. I had to run to my local hardware store to purchase bolts that fit. I used the left molle panel as the mounting point for my DC-to-DC charger (and fuse) used for my auxiliary battery system. Here, the usefulness of the molle nuts was very apparent. All in, I am very happy with this purchase.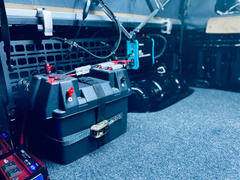 11/06/2022
Matthew S.

United States
I recommend this product
Molle rack for a 2021 ford ranger
It's for a lariat tremor ranger 5 1/2 bed. It was very easy to install and functions and looks great. But note couldn't fit track boards on plus I have a soft fold tonneau cover but racks fit.