Who We Are
It's in our DNA
We're 2am nights in the garage with your buddies. We're that rush of adrenaline when the pedal's to the floor and you're 'pretty sure'. We're breaking things, fixing them and then breaking them again. We're burgers, brats and beers at the end of a long day. We get it.
Leadership​​​​​​​
Matt Beenen
Matt is the founder and President of BuiltRight Industries. Matt's a mechanical engineer with a background in military weapon systems. Currently driving a 2022 Rivian R1T.
Matty Jones
Matty is the Engineering Manager at BuiltRight. As a lieutenant with the local volunteer fire department, he brings a great deal of experience with equipment storage. Currently driving a 2021 GMC AT4.
Matt Homes
Matt Homes is the Customer Service Manager at BuiltRight. He also handles all social media communication. If you reach out, he's probably the one reaching back. Currently driving a 2008 GMC Sierra.
Leah Hughes
Leah is our Special Projects Manager and Product Photographer. She is a Navy Veteran with a passion for off-roading. Currently driving a 2023 Subaru Outback.
Jerid Suchy
Jerid is the Director of Sales and Marketing at BuiltRight. When he and his mustache aren't building relationships, he's in the desert or on the river with his family. Currently driving a 2017 F-150.
Max Mayone
Max joins us from the Green Mountains of Vermont and brings with him a background in communications and media production. If you catch us on video, Max was the one behind the camera!
Dennis Frank
Dennis is our Production and Logistics Manager. When you open a BuiltRight box, there's a good chance Dennis was a part of packing it. When he's not at BuiltRight, he's restoring boats!
Marcus Rodriguez
Marcus is a Warehouse Associate, ensuring products are assembled, packaged and shipped quickly and accurately! Loves 7-Eleven, the Philadelphia Eagles and long walks on the beach.
Max Rhodes
Max joins us as a summer Engineering Intern from Union College. He's been designing and prototyping tools for the production team and has been doing some analysis on potential new equipment purchases!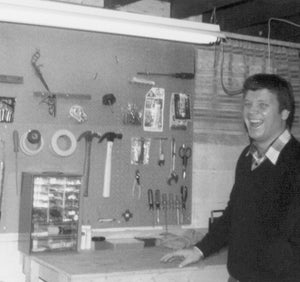 Our Story
My name is Matt Beenen, Founder of BuiltRight Industries.

BuiltRight Industries is dedicated to my father, who passed away unexpectedly in 2008. He was an extremely hard worker and always impressed upon me the importance of having something to call your own, no matter how small.

For my birthday one year, he gave me a $1200 no-interest small business loan to buy my first real computer and build blue-bubble.com, a free online local classifieds service. I have always been fascinated by cars and always been looking to design and engineer modern solutions to common problems. After spending many years in the automotive parts industry, I decided to once again strike out on my own. Using the same $1200, I set out to build a company that provides premium, reliable aftermarket parts. BuiltRight Industries was born. It's modest, but it's mine.

I founded BuiltRight Industries on the same principles that my father always preached - hard work, ingenuity and commitment. It's why we combine OEM CAD data with 3D scanning technology to develop, make and model tailored-products that fit perfectly and install easily. It's also why every BuiltRight Industries product carries a "no questions asked" lifetime warranty.

From our very first product, to our latest innovations, everything at BuiltRight Industries is built with purpose, is built to work, is BuiltRight.
See why people choose BuiltRight