Features

– Heavy Duty 1/8" Steel Construction
– Durable Texture Black Powdercoating
– Modular MOLLE and Slotted Mounting Locations
– Slots for 1" Webbing Around Permineter
– BuiltRight Industries Lifetime Warranty
– Price includes panel only - hardware sold separately

*** Note that the hardware shown in the photos showing the center console installation is NOT included. You can learn more about that installation here!
Fitment

Universal MOLLE Mounting Panel
Engineering & Manufacturing

– 10.0" x 7.5" Outside Dimensions
– Weight: 1.31lbs
– 2" Vertical Spaced Slots accommodate 1/4" hardware
– 1" Webbing Slots around perimeter
– Correct MIL SPEC MOLLE/PALS Pattern Dimensions
Installation

We've designed a 42pc Mounting Hardware Kit and offer a growing range of attachments and custom hardware. In addition to the mounting hardware kits, our MOLLE Nuts provide a threaded mounting feature in the center of the MOLLE cutouts, which expands mounting options and simplifies installation.
---
Customer Reviews
Write a Review
Ask a Question
05/31/2021
William P.

United States
I recommend this product
Great organizer and well built
About two weeks living with the BuiltRight tech plate. It is well constructed and very helpful to keep gear organized and handy. These flashlight holders work well with the Surefire 6P and other similar sized flashlights. https://www.amazon.com/dp/B07H1QWHMW/ref=cm_sw_r_other_apa_glt_i_C0S13057418Q1FPD2V7F?_encoding=UTF8&psc=1 Velcro straps work well to keep some accessories in place, others items work great with the MOLLE compatable spacing.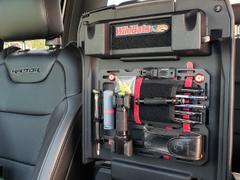 05/06/2021
Chase C.

United States
I recommend this product
Tech Plate Excellent
It is easy to install and looks great. I installed it in my F250 on top of aftermarket safe. Plenty of room for my light, knife etc on the Tech Plate. Very nice addition.
04/28/2021
Robert C.

United States
I recommend this product
Tech plate install
Awesome product and easy intall. I follwed the install video and only broke two of the white clips during the cover's removal. The video was straight forward and very easy to follow. I did mount one MOLLE pouch before ******** the Tech Plate to teh lid and used 4 of the longer standoff to clear the pen holder. I didn;t know I needed this item until I saw the other uses for the plate. I have a second tech plate that will be installed near the wheel well of my long bed 2021 SuperDuty. I am adding the auxilliary camera for the Ford 5 camera system on the driver side of the bed so I can see the gooseneck hitch while hooking up to my 5th wheel camper. I could mount the camera directly to the bed, but this will be cooler install and give me another reason to add more BuiltRight products to my truck.
04/22/2021
Jonathan

United States
I recommend this product
Just was I was looking for!
I installed this on the front of my glove box of my 4Runner, mainly to cover a bad gash I put in there while hunting. The molle panel with a few strategically places pouches looks badass and most people that ride in my truck think its factory installed. The fit and finish are great, delivery was quick, no complaints!
04/18/2021
Charlie

United States
I recommend this product
Top Notch
I spent some time looking at several other companies, and similar style panels for my 2019 Expedition and my gun safe. The common theme I kept noticing was the other companies products were constructed from a fancy named material, which is essentially plastic in my opinion. The last thing I want is for my mount to bend after you hang a couple pounds on it. If you plan on putting it in your car, make your you watch the videos and see how "rigid" those panels really are after a hot summer day with the windows up. I ordered the 10" x 7.5" Tech Plate and hardware kit and as soon as I picked up the plate I knew I had made the right choice. The plate is solid, has a nice finish and will outlast the fancy plastic panel I almost purchased. The hardware is high quality and the red paired well with the plate. After watching the video I installed the Tech Plate in my Expedition without any issues. I can assure you this plate is well worth the money and won't bend or loose its shape over time like the others. I will be purchasing a larger plate for my Liberty Fatboy gun safe and look forward to the finished product. I carry extra mags for work and off duty, so I threw my Pmag, G43 mag and my flashlight up there just as a size reference. They do no good in the back of the car if needed, and they use to just rattle around at the bottom of the console. Once I get some time to mount them how I want, I will know exactly where they will be and not at the bottom of a junk pile. Hats off to BUILTRIGHT INDUSTRIES for great product.