Prepare
Make your Bed
Keep your most important gear organized and out of the way for when life throws you a curveball, whether that's an adventurous 'detour' or an unexpected trip to Costco.
The Original
'BLOCK AND SLOT' Pattern
The term MOLLE has become a bit of a buzzword in recent years and many imitation products have latched onto it, simply cutting square or rectangles into their products. The BuiltRight 'Block and Slot' pattern offers slotted features, designed for use with common 1/4" mounting hardware in addition to correct MIL-SPEC MOLLE/PALS features. Finally, the BuiltRight MOLLE Nuts (sold separately) offer an additional mounting location with a 1/4-20 threaded hole for easy installation.
Quality
Built Right, Right Here
Each Bedside Rack Panel is manufactured using high-grade 1/8" thick steel plate and is CNC cut and formed for perfect fit every time. All panels are finished with a durable texture black powdercoat for a factory look and feel.
INNOVATION
The Design Process
BuiltRight is an engineering company before all else and we're obsessed with great mechanical design. Each product has a story of ideas, innovation and iteration until it's just right.
Your Bedside Rack System started as a 3D scan of multiple truck beds, in order to understand the manufacturing tolerances that Ford, GM, etc hold themselves to. We then use that data along with CAD files provided by our OEM partners to design parts that will fit your truck perfectly.
Finally, we test those parts using finite element analysis on the computer before sending them out to our network of product testers around the world. Real-world testing happens in Baja, on ranches and jobsites across the country and on the icy, salty roads from the Midwest to the Northeast.
Buy with Confidence
Consider this a no-BS, satisfaction guaranteed, no questions asked promise. Here's the thing - you won't need it. On average, we process one warranty claim for every 9,827 products we ship.
American Made
BuiltRight Bedside Rack Systems are proudly made right here in the US using the highest quality domestic materials we can get our hands on. We're proud to support American manufacturing and the folks that make it possible.
Setup Assistance
Looking for advice on how to attach a specific piece of gear to your racks? Needs some help with an installation? We're all 'truck guys' here, so technical support from somebody who uses our products is just a call or email away.
Industry-best Customer Support
Lifetime warranty + Lifetime customer support backed by a real person. (yes, that's Matt)
---
Customer Reviews
Write a Review
Ask a Question
08/31/2023
MIKE J.

United States
I recommend this product
Great experience
Fast shipping, great product. I take delivery on 9/6. I'll let you know how install goes.
08/13/2023
Edgar G.

United States
They are built right!
Excellent experience. You see what you get. I bought the bed panels and the molle pouch. The panels fit perfectly. Less than 5 minutes to install each panel and I installed four total. What took me some time was deciding the location and the actual mounting/ Three hours! but that is on me. I wanted it just right. The pouch were better than expected. They are heavy duty and the simple organization. They are doing the job but I have not tested them under rain or snow yet.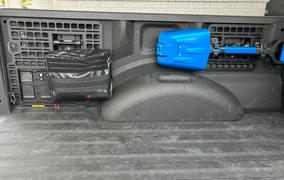 07/23/2023
Anonymous

United States
I recommend this product
Looks great
I spent a little while this morning installing this. It went on super easy, my only exception is no directions on how to install the accessory items. I guess they can go anywhere I desire, which is great, but the arrangement of the hardware, mostly on the large circular bracket. I think I figured it out though, I hope. Great item though, I use to own a Bronco and that is how I knew it would be a wonderful experience.
07/01/2023
Anonymous

United States
I recommend this product
Quality Product
Easy install, panels are better than I imagined, if you are thinking about getting this, don't wait just get it, you won't be sorry
05/14/2022
Jeremy

United States
I recommend this product
This is great
Install for the panels was perfect. Out of all the things I've put on my jeeps/trucks over the years, this is the first time small holes lined up perfectly with my boxlink system and the truck holes. The packaging was stellar. Everything was great. Be prepared to spend some time getting the quickfist mounts together and mounted. It's a bear to get behind the things, but once it's on, it's on! I did have to relocate one of my clamps for my Bakflip cover about an inch further back, but it's truly no big deal.
12/29/2021
Diane N.

United States
I recommend this product
He even installed it Christmas Day
Communication was great and the installation went smoothly. Very satisfied with this product.
12/03/2021
Anonymous

United States
I recommend this product
Quality but needs some reviewing
The over all quality of packing and material used seems great. But there's always room for improvement, starting with designing the panels to work better with bed cover clamps. It's a small inconvenience but with the right design it'll make it much better. Also the ford panels don't cover alot of the bed side area when compared to chevy/dodge.