Features

The BuiltRight Industries Dash Mount provides a rigid, durable mounting point for all types of accessories. With room for multiple mounts, users can attach and configure their devices with infinite adjustability. A popular combination with our product testers was cell phone, radar detector and dash cam, from left to right. The Dash Mount was born from the lack of phone mounts that give you the ability to position your device where you want. 'RAM' brand ball and socket mounts are an excellent addition to the Dash Mount and although we don't yet have them in stock, they are readily available on Amazon (see below). The slots used in the design are sized to accommodate AMPS standard attachments.
Fitment

2015 F-150, 2016 F-150, 2017 F-150, 2018 F-150, 2019 F-150, 2020 F-150, 2017 Raptor, 2018 Raptor, 2019 Raptor, 2020 Raptor, 2017 F-250, 2018 F-250, 2019 F-250, 2020 F-250, 2021 F-250, 2017 F-350, 2018 F-350, 2019 F-350, 2020 F-250, 2021 F-350
Engineering & Manufacturing

The bracket is manufactured from 12ga mild steel and finished with a durable black texture powdercoat - a very close match to the OEM dash finish. Each kit contains the Dash mount bracket, four machine screws, four washers and four locking nylon nuts. Also included are printed instructions and a BuiltRight sticker!

– Accessories to Consider:
– RAM Mounts 1" Ball and Socket System
– AMPS standard ball and socket base
– Socket arm for 1" ball (varying lengths)
– GoPro 1" ball adapter
– X-Grip Device Holder
– Magnetic Power plate for Radar Detector
– Panavise Portagrip phone holder
Installation

Installation is very straight forward. The laser cut and CNC formed bracket attaches to the tray located above the dash using four machine screws, included in the hardware kit. The four .25" holes used must be drilled by the user in the OEM tray. Should you choose to return to stock, the OEM rubber mat inside the tray conceals the holes.



---
Customer Reviews
Write a Review
Ask a Question
04/10/2021
Brian P.

United States
I recommend this product
Dash Mount + Rear Seat Release Bundle
I highly recommend these BuiltRight products due to their quality and the company's customer support. I purchased these two items as a bundle in because there was a slight cost saving when compared to buying them separately. I also purchased the support plate to cover the future possibility of wanting to mount an iPad or heavier object. The rear seat release works as advertised and was easy to install with the help of the company's YouTube video. I should have installed this years ago because it sure beats trying to squeeze my hand behind the seat to get at that release. No more! I decided on the dash mount for use with two devices, one being a monitor for our travel trailer backup camera and the other a second GPS which serves as a backup to the truck's built-in unit. I wanted to be able to deploy either a magnetic mount or a mount with an AMPS hole pattern and the BuiltRight mount being steel provides both. The dash mount and support plate were easy to install with the help of the company's YouTube video. I took my time, being extra careful to avoid damaging any of the dash panel clips and fortunately none were broken. The mount look great and feels solid, I'm happy I used the support plate. I decided to go with the Mob Armor MobNetic Pro 90's to mount both the GPS and monitor and it's working great with the BuiltRight mount serving as a solid base to which the MobNetics are easily attached. Last but definitely not least, I experienced top-notch customer support. It was a few days after placing my order and I had a question about when they expected it to ship. I asked the question on a weekend and was surprised to see the reply on that Saturday. They answered my question and the order was shipped out shortly thereafter via express service. Later when I had the need to return one of the items they quickly provided a prepaid shipping label and RMA number. Great support and I would buy from them again.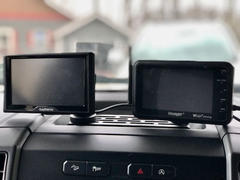 04/08/2021
John

United States
I recommend this product
Good sturdy mount
Been looking for something to mount a few items on the dash of my 2020 F-150. Came across BuiltRight and after looking through their products, I purchased this mount and the accessory arm and X holder. I think the key to my install going so smoothly was the 2018 install video on youtube. I was apprehensive about the speaker cover but it came off without issue using a plastic pry bar. Took a bit longer than I planned because I wanted to snake my iphone cable down inside the dash to the usb ports in my console. Once that challenge was accomplished, everything went back in place quickly. Down side - no BuiltRight sticker. Are they not shipping with new orders?
04/07/2021
Anonymous

United States
04/06/2021
Frank K.

United States
I recommend this product
Dash Mount
It's an excellent item but could be just a tad taller
04/06/2021
harrison, d.

United States
I recommend this product
Excellent bracket!
Quality maid bracket! I'll be perfect for a bunch of different accessories to mount on the dash