Features

– Laser cut and CNC formed for perfect fit
– Black texture powdercoat for corrosion resistance
– Extremely durable 12ga steel construction
– MOLLE/PALS compatible mounting features
– Attaches rigidly at top and bottom of seat back
– Allows seat to recline without issue

Kit Includes:
– 1x 16.0 x 23.5 Tech Plate
– 1x Upper Mounting Bracket
– 1x Lower Mounting Bracket
– 2x Machined Headrest Bracket
– 1x Hardware Kit
Fitment

– 2015 - 2020 Ford F-150 and Raptor

– 2017 - 2020 Ford F-250, F-350, F-450
Engineering & Manufacturing

This one's simple and you either need it or you don't. A lot of people use or are interested in using a seat-back MOLLE panel solution in thier Ford truck and the reason we've avoided making a kit is that frankly, there are some pretty decent ones out there. The problem with them is that they attach to your seatback with nylon webbing. Great for manufacturers because a one-size-fits-all kit is ideal, but not great for users that need to know that their panel isn't going anywhere. Our rigidly mounted solution also ensures that your seats aren't damaged by straps, hardware or the panel itself.
Installation

Coming soon, but it's as simple as it looks.
---
Customer Reviews
Write a Review
Ask a Question
04/07/2021
Brandon B.

United States
Needs instructions
Lacked instructions. I believe it was missing two nuts. Once installed though, works great!
04/01/2021
Ransom007

United States
Great product
I bought this instead of a grey man tactical panel. Wanted something that could store a bunch of great including a firearm securely. Just a note...I generally do not leave firearms strapped into the panel unattended. If you have to you can throw a big coat over the headrest and it will cover the whole panel. That being said I like the way this panel attaches. No straps, all solid hardware that doesn't shimmy or shake in any way. Rock solid! Only gripe is that instructions would have been nice. But even as is it's fairly easy to figure out.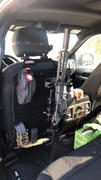 02/23/2021
Todd A. Peterson

United States
Seat back MOLLE rack
I am a professional Real estate and commercial photographer. I carry quite a bit of equipment in the backseat floor of my 2018 Ford F150 super crew. I got tired of two of my tripods rolling around. Installation took a little bit longer than anticipated and like the previous review had to figure out how to attach the bottom brace. The easiest way to do it is to unzip the back panel of the seat and lift it all the way up so you can gain access to the lower seat pan where you bolt the bottom brace. I suggest doing that as a first step before any other mounting. Once done wit that the other bolts will make sense. I look forward to seeing how stable the rack and quick riser clips are.
02/19/2021
Kevin H.

United States
Great Product!
Installed the truck bed storage panels in my 2017 Raptor. Perfectly designed and engineered, super easy to install. Started looking at other BuiltRight products and got the seat back tech plate. Now storing my first aid kit, some small tools, and other emergency gear previously stored under the rear seat. Now those items are easily accessible and organized. Does not come with install instructions. Figured out how to attached to the headrest posts. But there's a bottom bar that creates space between the back of the seat and the panel. Not sure if it is suppose to attached to anything else. So far the panel doesn't bounce or move, so I'm not worried :-) Will keep checking back for install instructions. Just got the dash mount and will install soon. Happy to review that once done! Thank you for making a great product! KVH
02/16/2021
Ricky P.

United States
Seat panel
Well built, love the design and stability of the panel. I m ow is says for an F150, but I put it on the back of the driver seat of a 2011 Dodge Durango. I did have to get creative with the attachment of the bottom of the panel. The top around the headrest bars lined up perfectly though. The one complaint I have is if I weren't mechanically inclined I would not have know how to put it together as it came with no instructions and the website had none posted either. Overall I love it and will be buying more for my F150.