Features

– Laser cut and CNC punched/formed for perfect fit
– Black texture powdercoat for corrosion resistance
– Extremely durable 11ga (1/8" thick) steel construction
– MOLLE/PALS compatible mounting features
– Patent Pending US 2019 / 0092213 A1

Kit Includes:
– 1x Driver's side large rear panel
– 1x Passenger's side large rear panel
– 1x Driver's side front panel w/ integrated hardware
– 1x Passenger's side front panel w/ integrated hardware
– 1x Hardware kit w/ support brackets
Fitment

– 2019 Ford Ranger CrewCab
– 2019 Ford Ranger SuperCab
– 2020 Ford Ranger CrewCab
– 2020 Ford Ranger SuperCab
– 2021 Ford Ranger CrewCab
– 2021 Ford Ranger SuperCab
Engineering & Manufacturing

In the 2019+ Ranger lineup, each truck bed is equipped with threaded features for up to six tie down loops. Used along with the oval holes further up the headside, the Ranger is very well equipped to support a full length MOLLE panel system. The BuiltRight Modular Bedside Rack System installs using these factory mounting points, without the need for modification to the vehicle. The panels provide MOLLE-compatible features for the use of MOLLE/PALS accessories in addition to universal slots for an infinite number of possibilities.

The Ranger panels can be used as a 4pc kit, of course, but the rear panels can also be used on their own, without the front panels. This allows users to setup their truck as needed and add to their system if their gear mounting needs change. The front panels cannot be used on their own, as they attach to the rear panels for support.

– Store items that need to be easily accessible and organized
– Keep tools, straps, shackles, etc from rolling around in the bed of your truck
– Easily configured depending on intended use
– Made in USA. Lifetime Warranty.
Installation

Installation is quick and easy. Using a T40 torx bit, remove each of the tie down loops and set them aside. Next, remove the rubber covers plugging the oval shaped holes in the bed. Install the machined aluminum tie down mount blocks and brackets. Install the rear panel and loosely bolt into place using OEM hardware. Loosely install the front panel using OEM hardware. Bolt the two panels together using the included stainless bolts. Tighten all hardware and you're done. Expect to spend 10min per side.



---
Customer Reviews
Write a Review
Ask a Question
06/21/2021
Joe D.

United States
I recommend this product
Highly recommend these bed side racks
Once ordered, I was provided quick updates on shipment status. Package arrived and the bed side racks were expertly packed in bubble wrap. Mounting hardware was individually wrapped which made it very easy to take inventory of parts. These steel racks are beefy strong and the powder coat finish is flawless. Fitment was perfect. I did not have to wrestle any of the parts into place. Matt's installation video was excellent. Not that they were difficult to install. But, his step-by-step instructions were spot on and well worth the watch. I feel that I definitely got my value for the price. I was looking at the competition, P****o. They are selling their side panels at twice the price of what BUILTRIGHT INDUSTRIES does. Maybe the weight savings for aluminum racks is worth it to someone to pay twice the price- not me. Way to go! Can't wait for you to design a cab front panel. And, thanks for packing a free "remove before flight/BUILTRIGHT INDUSTRIES" key chain pennant. Nice touch!
05/31/2021
Jason A.

United States
I recommend this product
Qualty bedside racks.
Very high quality. Would higly recommend. My only complaint is no install instructions. Another review mentioned the same thing, to which they said a link online instructions was on the thank you card. I checked, but there was no such thing. Looking at what they did have online, there was nothing for the Ranger. However, they were very easy to install, even without instructions. If you only have 2 tie downs on each side, you will need 4 more M8-1.25 bolts to install. I picked some up from Lowe's.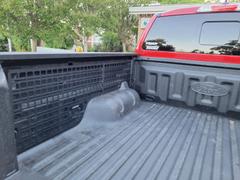 05/28/2021
Anonymous

United States
I recommend this product
Needs modification with bed power
Great except I had to cut out portion of back driver side to make it fit with factory bed power. You need to offer them with a cut out option for bed power
05/18/2021
Jeff L.

United States
I recommend this product
Great Quality Zero Instructions
I should not have to spend 45m on the internet to try to figure out how to piece all the hardware together. Even the Chinese sold **** gives you a diagram/parts list install. I think the photos posted here will get me squared away. Simple 20m job has me super annoyed.
05/22/2021
BuiltRight Industries
Hey Jeff, Our "Thank You" card should have a link to online instructions, we do that to reduce on paper waste. If we missed the packaged by card in your order that our mistake, sorry about that! if you ever have any questions, don't hesitate to call or shoot over an email, we're here to help! -Matt H.
04/29/2021
Hamza

United States
I recommend this product
Absolutely Amazing
I gotta say that these bedside racks are awesome! I can't believe I discovered them so late. Before putting these racks in, I had a Plano sportsman trunk with my recovery gear and some other gear hogging up my already short bed. It was such a pain taking it in and out just to have access to the whole bed. Plus I would end up putting the trunk in my cab. A never-ending battle on which portion of my truck was rendered unusable. With these racks, I don't have to compromise. I have all my gear tucked up and away and never have to leave it behind. I'm using a combination of lashing cam buckle straps, 1" velcro straps, and molle pouches. Also if you note I attached a 13"x19.5" tech plate to the underside of my tonneau. The mounting gear sits flush on the exterior and I also added some rubber washers to make it water-tight. If you're on the fence, I highly recommend pulling the trigger on these! (Excuse my shoddy workmanship on the cutout for the bed power. Had to make do with hand tools until I have access to some power tools)