Features

The bracket is manufactured from 12ga mild steel and finished with a durable black texture powdercoat - a very close match to the OEM dash finish. Each kit contains the Dash mount bracket, four machine screws, four washers and four locking nylon nuts. Also included are printed instructions and a BuiltRight sticker!
Fitment

2019 Ford Ranger, 2020 Ford Ranger

Accessories to consider:
– RAM Mounts 1" Ball and Socket System
– AMPS standard ball and socket base - $7.99
– Socket arm for 1" ball (varying lengths) - from $8.99
– GoPro 1" ball adapter - $8.99
– X-Grip Device Holder - $28.99
– Magnetic Power plate for Radar Detector - $13.99
– Panavise Portagrip phone holder - $16.99
– The possibilities are endless - get creative!
Engineering & Manufacturing

The 2019+ Ranger Dash mount offers two mounting positions. In the first position, the mount sits closer to the driver and at an angle that's closer to horizontal, allowing just enough space to easily fit a tool below the mount for configuring attachments. The second position is closer to the windshield, which offers a near flush position and retains a bit of the tray for holding sunglasses, keys, etc. Users can make this decision at the time of installation.
Installation

Installation is very straight forward. The laser cut and CNC formed bracket attaches to the tray located above the dash using four machine screws, included in the hardware kit. The four .25" holes used must be drilled by the user in the OEM tray. Should you choose to return to stock, the OEM rubber mat inside the tray conceals the holes. Installation is similar to the F-series/Raptor Dash Mount

Mount your cell phone, GPS, dash cam and other accessories with ease!
---
Customer Reviews
Write a Review
Ask a Question
02/16/2021
chris s.

United States
I recommend this product
Fit my needs perfectly
This mount fir perfectly in the dash tray and was easy to install. I have a mob armor magnetic mount stuck to it now and the combo of the two is the best way I have found to mount my phone.
02/16/2021
Chris L.

United States
I recommend this product
Great Solution & Looks Great
My wife ordered it for me for my birthday. Came today, nice packaging by the way. It's cold outside, but I installed it anyway. Easy install. To the guy that made the comment about having to move it forward due to the brace. I used a step bit and drilled at a pretty steep angle, pointing toward the grill, to make clearance for the nuts. Be careful, that might be a/c duct work directly below the cross brace, or contain electrical. Either way I didn't want to drill through what ever is below the brace. Sorry for the ****** picture, like I said it's cold outside. Maybe I'll send a pick once I get my Ram mounts on.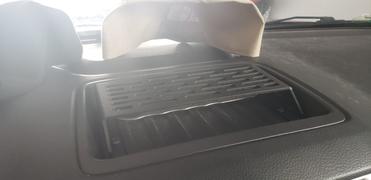 02/03/2021
Ian F.

United States
I recommend this product
Perfect Solution
This mount was the perfect solution to mount my Spod screen. Fit was great, although the included hardware was a little too long and hit some of the plastic in the dash under the tray and wouldn't allow it to snap back in. Easy fix with 30 seconds and a dremel.
02/02/2021
Dennis D.

United States
01/05/2021
Ryan S.

United States
I recommend this product
Could be improved
Once it's actually installed, it works great. However, there are two issues I have. First, the mount must be installed as far forward as possible (toward the driver). There is a plastic support under the tray that interferes with the screws so if the mount is installed biased toward toward the hood, the tray can't be reinstalled. This makes for a little less room to continue to use the tray. If the supplied screws were shorter, or the bracket taller or more angled, it would allow you to still use a pretty good amount of the OEM tray space. The second issue I have is with the supplied screws themselves. All four screws are slightly occluded by the mount. You can get a screw driver in, but there's definitely a risk of stripping them. If they were changed from philips to allen heads, you could use a ball head allen wrench and completely eliminate the issue. I can't help but think this was developed by making some adjustments on paper from the F-150 or other existing mount without actually testing it. Built Right, supply shorter allen head bolts instead of the overly long philips and both problems would be fixed!
01/18/2021
BuiltRight Industries
Hey Ryan, thank you for the feedback! We've passed your feedback on to engineering and I expect that they'll make your suggested hardware change!